What Is A Cataract?
A cataract is formed when the lens in the eye ages, causing it to harden and become cloudy. Cataracts affect vision in several ways. Colors become dull or yellowish, and vision becomes blurry or fuzzy, like looking through a dirty window. The word "cataract" also means "waterfall" symbolizing that when the lens becomes cloudy it's like looking through a waterfall.
Some cataracts develop slowly and others quickly. Cataracts should be removed when they interfere with normal daily activities, present a physical danger such as a fall risk, or when a person is bothered by them.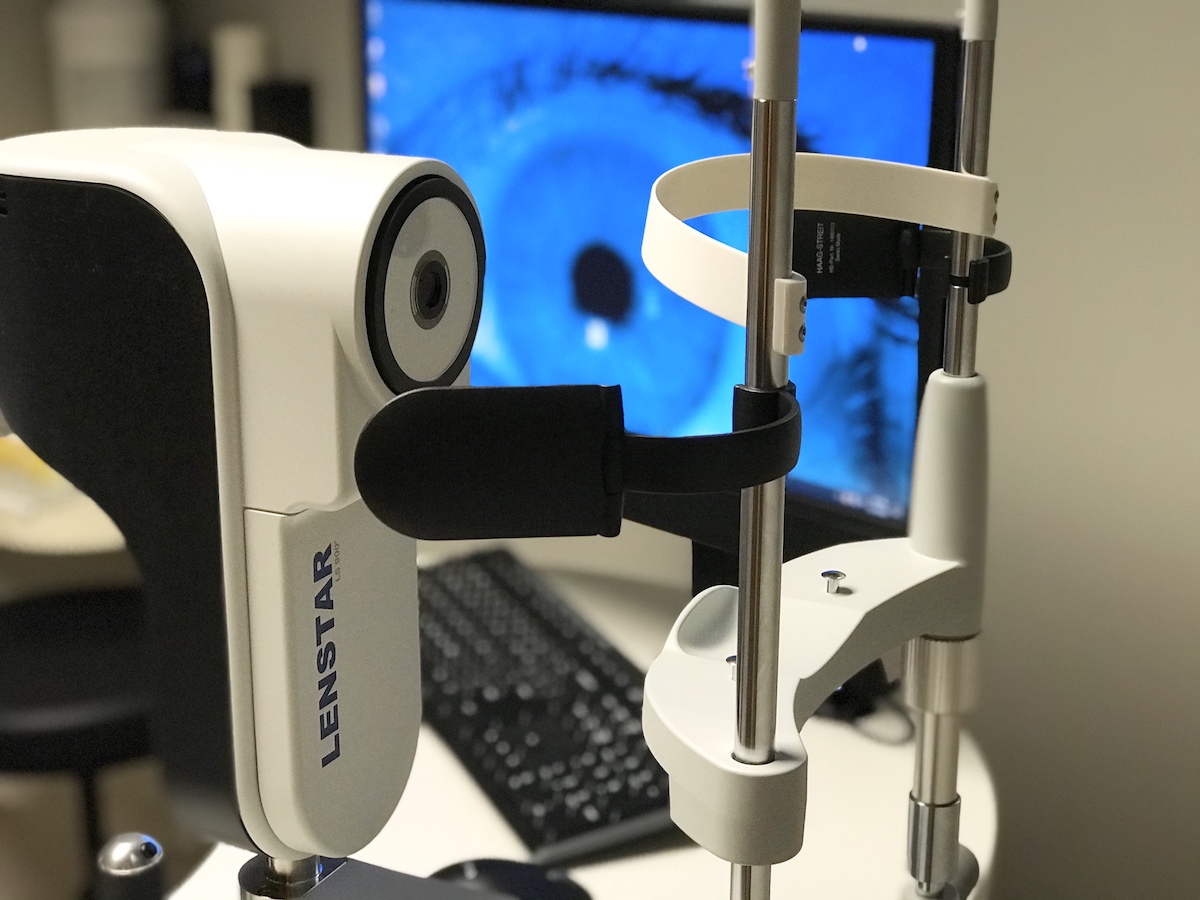 What Are The Symptoms Of A Cataract?
Cloudy, blurry vision • Faded or yellowed colors • Sensitivity to light and glare • Halos around lights • Need for brighter lights for reading and other activities • Increased difficulty driving at night • Frequent prescription changes for your glasses
What Causes Cataracts?
Most people develop cataracts as a natural part of the aging process. Other factors that contribute to the early onset of a cataract or the rapid growth of a cataract are:
Extended exposure to sunlight without proper UV filtering glasses
Use of some medications, including steroids
Systemic diseases, such as diabetes
Trauma
Smoking
Obesity
High fat diet
Heredity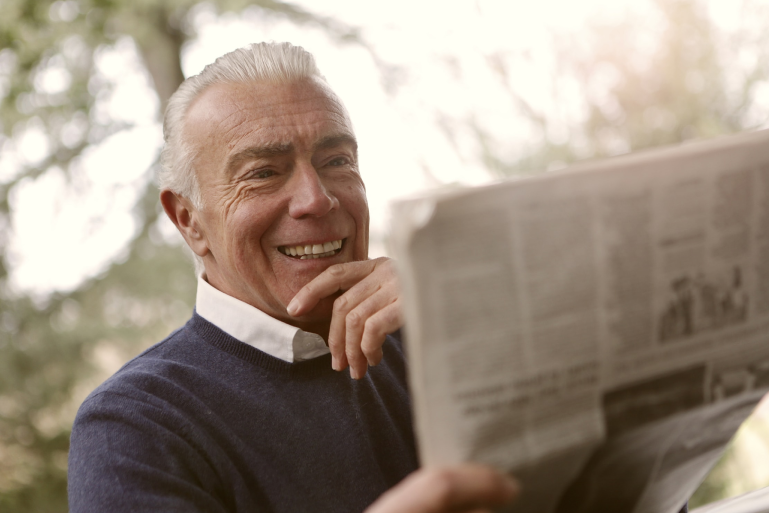 I'm a 65 year old physician who recently had bilateral cataract surgery with Symfony lens implant by Dr. Waters. The results have been amazing. I no longer need glasses for reading or distant vision. I highly recommend Dr. Waters for anyone contemplating cataract surgery. The Symfony lens is a premium lens which costs more than the standard lens covered by insurance. However, it allows for both near and distant vision without glasses. The additional charge is well worth it for something so important as great vision. I couldn't be happier with the outstanding care I received and the fantastic results!

I am completely satisfied with the care and treatment that Dr. Waters, Andrea and the rest of the staff at Complete Eye Care provided for treatment of my cataracts. I can read without glasses once again. My experience met and exceeded all of my expectations.

Office staff is just so friendly and knowledgeable and Dr. Waters is the best. I have worn glasses for 60+years. Had eye surgery with lens implant and can now see without glasses! Dr.Waters is always there to answer any questions you may have. No pain just great results. I highly recommend.
How Are Cataracts Treated?
Cataracts can only be treated with cataract surgery. During cataract surgery Dr. Waters replaces the natural lens in the eye with a lens implant. Because of Dr. Waters' skill and experience cataract surgery only takes a few minutes, which helps keep the patient comfortable and reduces the time spent at the outpatient surgery center.
Cataract surgery is no longer a "one size fits all" procedure. There are several different lens implants patients can choose depending on the type of vision they want to have after surgery. Lens technology has advanced to the point where Dr. Waters can customize patients' cataract surgery to best fit their lifestyle and visual demands and reduce the dependence on glasses.
One lens implant that patients particularly like is the Symfony lens implant, which can give patients functional distance, intermediate and near vision, all without glasses.
Where Is Cataract Surgery Performed?
At The Surgery Center
Dr. Waters' patients have the added comfort and convenience of having surgery at The Surgery Center, located a 5202 Miller Rd in Flint, only a block away from Complete Eye Care. The Surgery Center is Genesee County's first multi-specialty outpatient surgical facility. Its highly-trained nursing staff gives complete attention to patients' and families' needs. In addition to The Surgery Center, Dr. Waters also does surgery at McLaren.
If you are experiencing cataracts, click here or call our office at 810-732-2272, so we can be of service.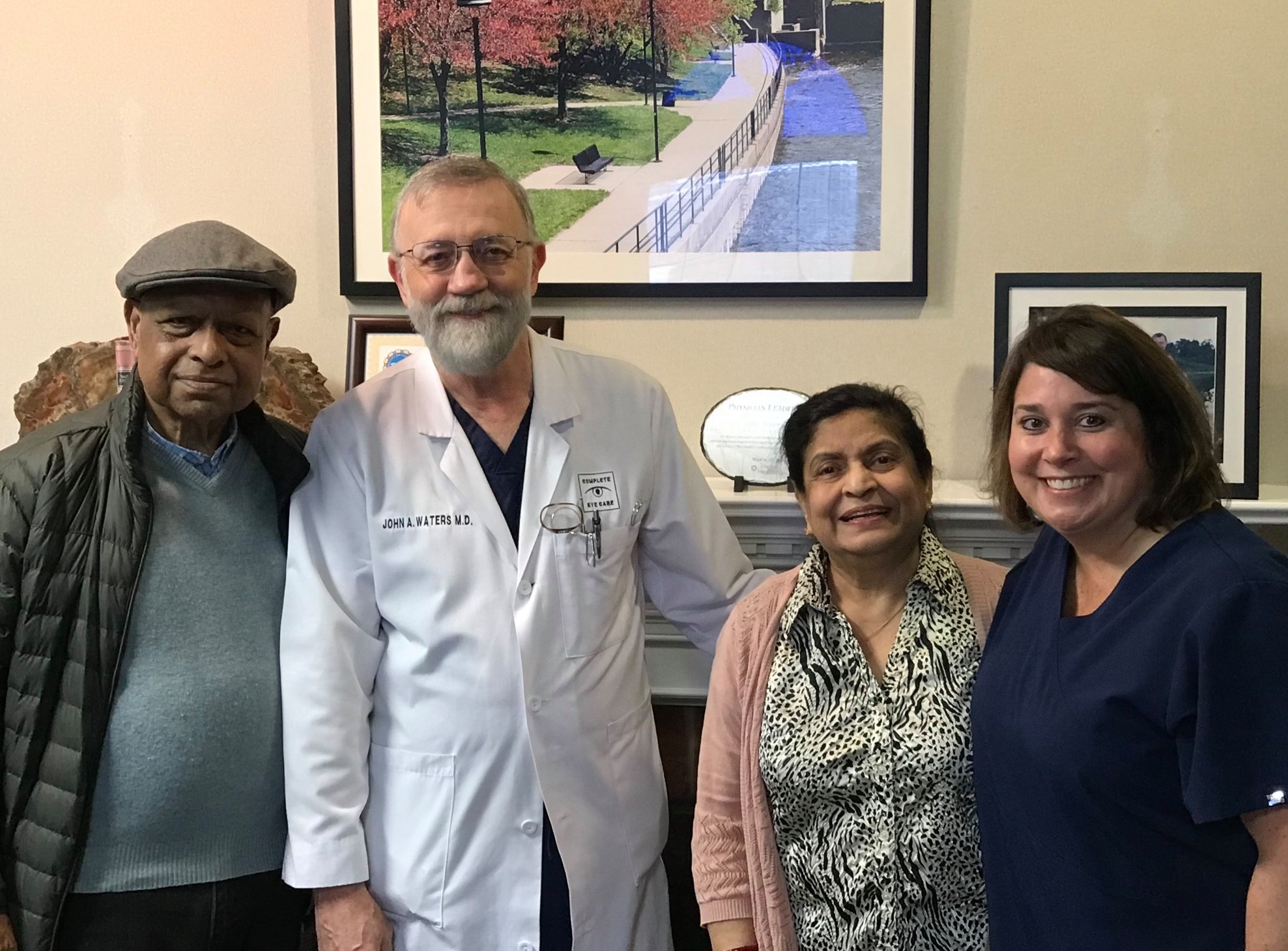 The Banerjees
Dr. and Mrs. Banerjee both just finished having cataract surgery with the Symfony Lens Implants and now have a new outlook on life. "Every part of the body is vital but the eyes are so important," they said. "Why wouldn't we choose this lens and have good vision for life?" Mrs. Banerjee has renewed her love of sewing and crocheting, and Dr. Banerjee now has an easier time reading and teaching - all without glasses. They certainly kicked off our day with a smile!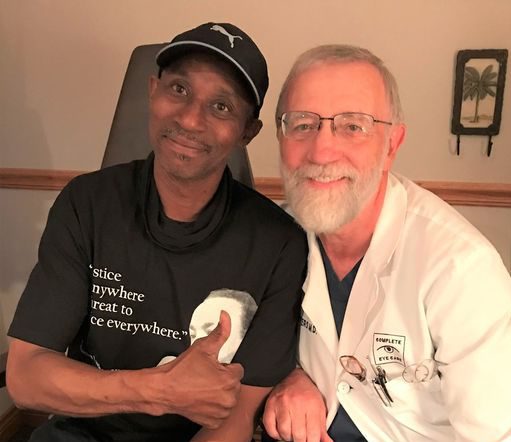 Berry
Berry came into our office today all smiles! He had his first cataract surgery done and he's looking forward to his 2nd eye. "At first I was kind of scared," he said, "but afterwards I feel enlightened and free. I am thankful I was sent to Dr. Waters." He says this experience has made him more aware of his vision and the need to take care of his health and protect his eyes. You brightened our day too, Berry!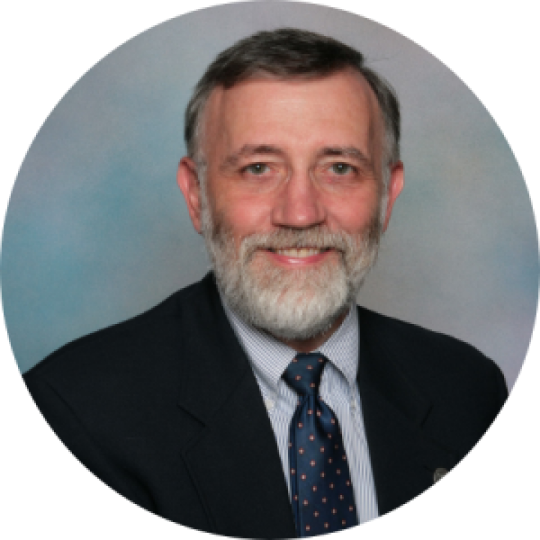 Meet Your Doctor
John A. Waters, M.D., established Complete Eye Care on the premise that he would dramatically improve the patient-physician relationship and create a more personalized form of healthcare. He has devoted his career to patient advocacy in the insurance maze and has sought to educate patients not only about their health but on their healthcare choices. In addition, he has ensured that he and his staff are trained in the best cultural competence and health literacy practices in order to tailor eye care to meet individual patient needs.
Let Us Help!
We are here to help! To make an appointment simply fill out this form and someone will contact you shortly to find a day and time that works well for your schedule.
Rather Talk To Someone Now?
You can call us at 810-732-2272 8 a.m. to 5 p.m. Monday through Thursday.