"Learn For the Health of It"
In October 2012 the Salvation Army hosted a "Learn for the Health of It" expo in Flint, and Complete Eye Care was there to support the event with free vision screenings. We were able to provide screenings for approximately 200 people.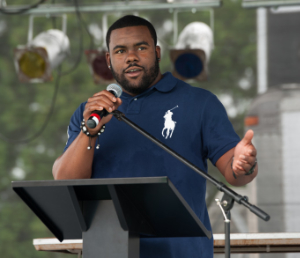 "Hurley Men's Festival"
Flint native Mark Ingram II, New Orleans Saints running back and 2009 Heisman Trophy Winner, was the keynote speaker for the "Hurley Men's Fest" in June 2012. Complete Eye Care was also there providing vision screenings and helping to educate participants on proper eye care. It was a great day with hundreds receiving services.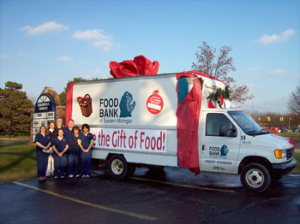 "Pay It Forward Friday"
Over the holidays we hosted "Pay it Forward Friday" event. During this event, we provided 32 free diabetic eye exams. In return for the free exams, people were simply asked to bring a bag of food items to donate to the Food Bank of Eastern Michigan. The donations to the food bank were very generous, and through this event we were able to provide over 2500 meals for our community!
"Cover the Uninsured Week Expo"
At Complete Eye Care we are committed to participating in the annual "Cover the Uninsured Week Expo" in Flint. Over 1,000 people attend this springtime event and receive free food, clothing, health screenings and valuable information on community services. During this event we provide free vision screenings for those in need of glasses, and in 2008 we were honored to receive the "Community Caring" service award. Read more about our involvement with "Cover the Uninsured Week Expo".
Free Glaucoma Screenings
Glaucoma is the 2nd leading cause of blindness in the world according to the World Health Organization. In an effort to help people understand glaucoma, Complete Eye Care provides free glaucoma screenings. The Ocular Coherence Tomography (OCT) test is an early detection test that takes a picture of the nerve layer in the back of the eye and can show early signs of the disease. We want to help people preserve good vision for life!
Free Community Vision Screenings
Over the past two decades Complete Eye Care has participated in numerous community health fairs and free vision screenings at local churches and expos. We eagerly seek ways to help provide access to affordable care and inform people on how to maintain their best vision.
Genesee County Free Medical Clinic
The free clinic is another way Dr. Waters can reach patients who might not otherwise receive the care they need for their vision. We've provided hundreds of free services for patients from the Genesee County Free Medical Clinic at no charge.
Environmental Action
Dr. Waters has always sought ways to become a "paperless" office, and in 1991 he was among the first doctors to invest in computerized medical records for his practice. Today, all of the systems at Complete Eye Care are computerized. In addition, we are dedicated to recycling everything possible including bottles, cans, plastic, metal etc.