What is LASIK?
LASIK is the most popular laser vision correction procedure that treats people who are nearsighted (myopia), farsighted (hyperopia), have astigmatism or who need reading glasses (presbyopia). LASIK can greatly reduce the dependence on glasses and contacts and return the freedom that comes with good vision.
During LASIK Dr. Waters uses a gentle laser to reshape the cornea (front of the eye) to improve a person's ability to focus their vision. The procedure itself only takes a few minutes and is painless.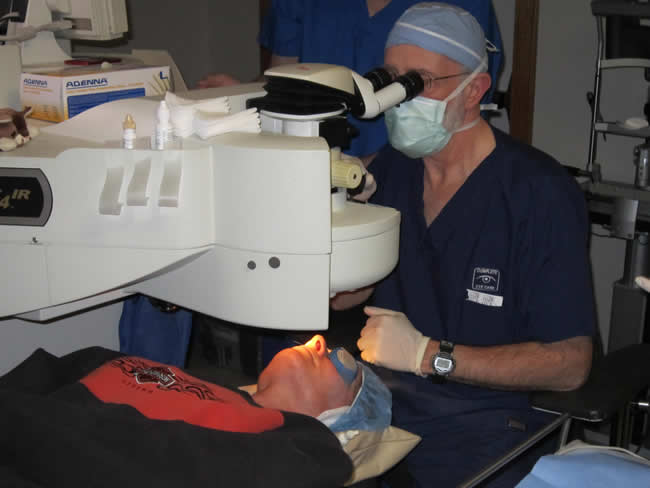 How do I know if I'm a candidate for LASIK?
The best way to find out if you are a good candidate for LASIK is to call our office and schedule a free LASIK eye exam. During this exam, Dr. Waters will take measurements and check the health of your eyes to help determine if you are a good candidate.
There is no obligation to have LASIK, but this is a good first step, so you can meet Dr. Waters and see what LASIK can do for you.
"With the LASIK procedure I can look up, down & around my peripheral vision & everything is so clear"
"I feel that getting this procedure is the best investment that I have ever made for my future."
"The procedure was a breeze and when I woke up the next day I could see. It was like a miracle."
"After LASIK my eyes are actually better than they were before when I had contacts & glasses"
What's the difference between the different types of LASIK and different lasers?
If you search for information on LASIK, you might read about different lasers and even different types of procedures, such as custom LASIK, iLASIK, LASEK, and PRK. The important thing to understand is that Dr. Waters has been performing LASIK for over 20 years and has expertise in all types of laser vision correction procedures. He also uses the most advanced laser and diagnostic tests to make sure his patients receive excellent results. During your free LASIK exam, Dr. Waters will answer any questions you have about types of LASIK, types of lasers and which might be best for you.
What does LASIK cost?
LASIK is very affordable today, and we have one global fee that covers the procedure and all follow-up care for one year. We also offer 0% financing for 12 months through CareCredit and accept Mastercard, Visa and Discover. Feel free to call for a quote.
To schedule a free LASIK exam, click here to fill out our quick email form or call our office at 810-732-2272, so we can be of service.